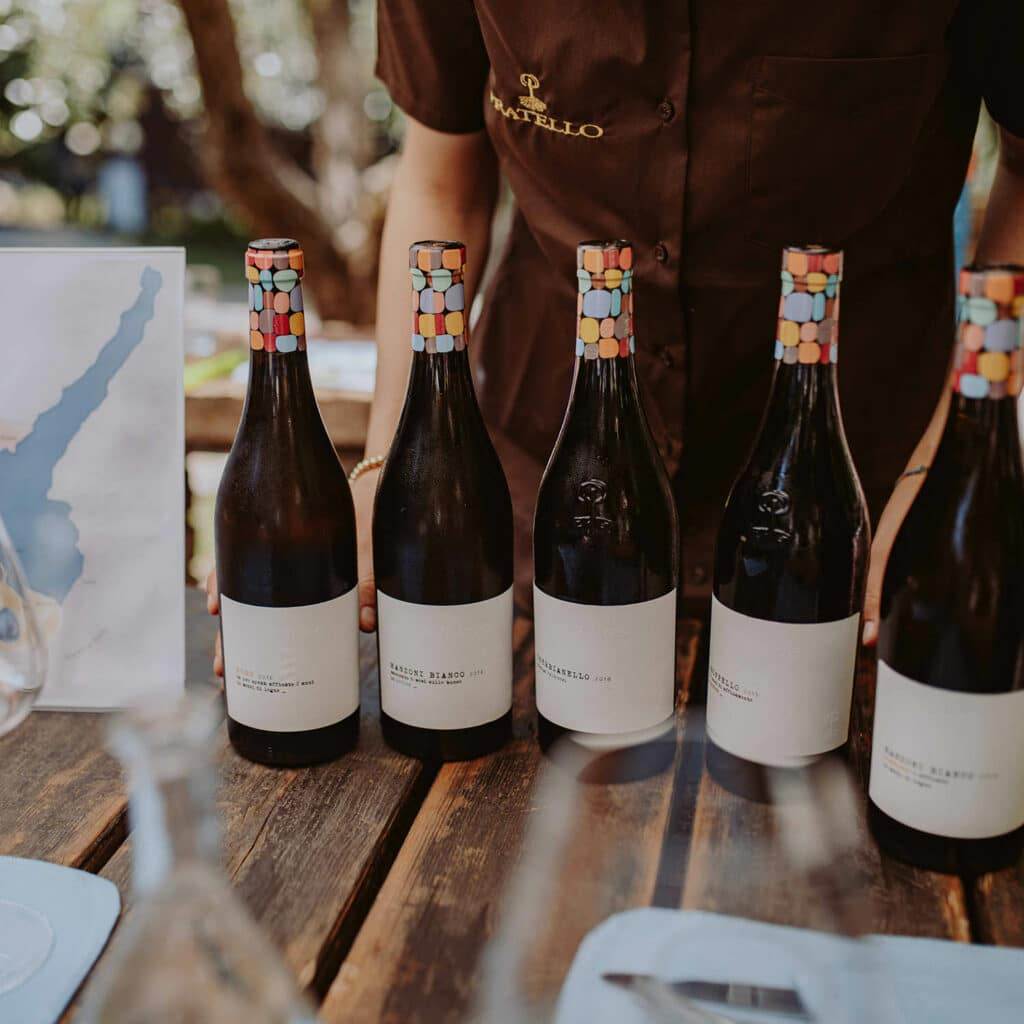 Words are not enough to describe the sensory experience that characterises the exclusive tasting of these great expressions of wine: Passion, Soul and Pride are the feelings that generate them. You wil learn about our story, our values and the philosophy behind the birth of the Khaos Wine Collection. We will delve into the origins of the grape varieties and the exclusive winemaking techniques used. At the end of the tour, the owners will guide you through an unprecedented wine tasting.
Trebbianello from Valtenesi 2018 – A very pleasant expression of Trebbianello ancient clone from Valtènesi, in a very savoury version. 

Manzoni Amphora 2016 – 6 months of skin maceration – Maceration that preserves the elegance of the grapes intact. A wine that, despite being already 5 years old, is off the time scale.

Groppello Amphora 2015 – 2 years of ageing in Amphora – The spiciness of Groppello grapes comes out immediately. Accompanied by the salinity, a stamp of the terroir. 

Rosé from Shyraz grapes 2016 – 2 years of ageing in oak Tonneau – If there is a wine of a lifetime, surely this is it. 

Manzoni Oak 2018 – 2 years of ageing in oak Tonneau – Powerful, very savoury, with a pleasant freshness. A wine that has no difficulty in remaining in the glass.
The exclusive food and wine tasting includes 1 dish prepared by the Chef, using our seasonal raw materials. Everything will be accompanied by the products of our Bottega Contadina, a project whose aim is to bring our raw materials and their processed products of the highest quality to the tables of all our customers, in combination with focaccias, crackers and breadsticks prepared daily by our baker Edoardo.  
For this experience we require a minimum of 2 participants.
If you are vegetarian or vegan, kindly let us know and we will be happy to prepare an alternative for you to pair with our organic and vegan wines. 
If you have allergies or food intolerances, kindly inform us when you book your visit.
the services of the Winery
Animal Friendly

Easy access for people with disabilities

Charging column for the electric car
Ristorante in the Winery
Hotel in the Winery
The experience shall always be booked in advance by email to the address enoteca@pratello.com or by telephone at the number +39 0309907005. 
The experience already booked can be cancelled at least 24 hours before the scheduled date and time. In the event of a no-show or cancellation within 24 hours, the experience cannot be rescheduled or used and 50% of the cost will be charged. 
We are confident of your understanding, as we prepare the food with fresh ingredients to ensure our guests an authentic experience.
Request Availability for Tasting